Introduction to Whitewater Tandem Canoe Skills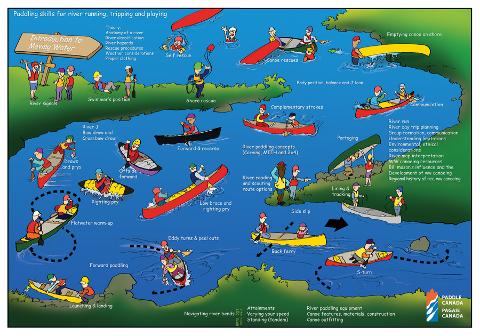 Duration: 2 Days (approx.)
Product code: PKEC38
This tandem course takes flat-water skills and adapts them to moving water. Participants walk away with the safety, skills, and knowledge to control a canoe in class 1 rapids. They will have a greater appreciation for moving water, and will learn about eddies, ferrying, lining, tracking, and wading.
This is great course for paddlers who want to take their canoe trips to rivers with a higher level of confidence.
Course Location: Cook's Rapids
Prerequisite: Lake Canoe Skills Tandem or equivalent skills and knowledge
Age Requirements: Participants must be at least 16 years of age.

Course Schedule:
Friday Evening 5:30 PM – After introductions and goal setting, participants will be assigned equipment and work through boat outfitting, equipment design, safety, clothing, and communications. This first evening is held at Wilderness Supply in Winnipeg (50 Isabel St. at 5:30 pm) and is a great opportunity to get to know the group and talk with the instructor about expectations for the weekend. A canoe, paddle, and PFD will be available for you to pick up at Wilderness Supply.
Saturday and Sunday 9:00 AM – Course will begin promptly at 9:00 AM each day. Your instructor will notify you the night before of the meeting spot for each day. For those who want to camp out Saturday night, camping is available at Cook's Falls campground.
Course Includes:
Canoe and paddle

Safety equipment (PFD, helmet, pump/bailing device, buoyant heaving line, whistle)

Camping fees
National certification and registration with Paddle Canada
Liability and Activity insurance
Please Bring:
Food for the weekend

Camping equipment and tent
Suitable paddling footwear and clothing - example: synthetic top over swimsuit, or paddling specific top (no cotton)
Water, snacks/lunch
Hat
Sunglasses
Waterproof sunscreen
Bug spray
Towel
Change of clothes
Pen and notepad if you wish to take notes
This course will run with a minimum of 4 people and a maximum of 8 per instructor.
Gratuities are not included in the course fees. Our instructors make every effort to ensure your course is all you expected and more. Recognition of a job well done is always appreciated. 5-10% of your course fee is recommended.

Groups wishing to fill a complete course may contact us and receive a 10% discount for filling the course.