SUP Flatwater Combo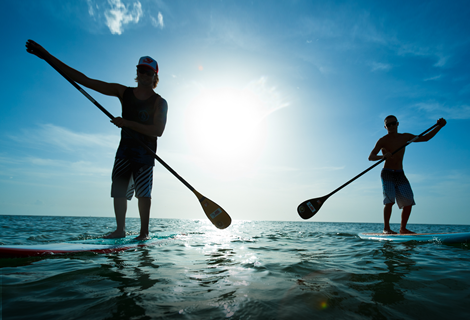 Duration: 7 Hours (approx.)
Product code: PRIHIU
Our "SUP Flatwater Combo" course combines all the content of "SUP 1: The Basics" and "SUP 2: Advanced Flatwater" into one convenient course. Learn everything you need to know to Stand Up Paddleboard on lakes big and small.
In the first part of this course we will introduce you to paddling in enclosed sheltered waters and calm conditions. Skills and knowledge covered include types of boards, paddling while laying down, kneeling, and standing on a board, balancing on a board,
regular and surf stance, forward & turning strokes, falling off a board and safety awareness.
The second part of this course builds on the skills and knowledge that you previously learned. It will help to improve your skills and theory in dealing with wind and waves on inland lakes and rivers. Pivot turns, foot positioning, edging, bracing and wave surfing skills will be the focus, while also improving your existing strokes.
Warning: You will have lots of fun and you will probably get wet during this course!

Course Location: Fort Whyte Alive Adventure Site 2505 McGillivray Blvd
Prerequisite: None
Age Requirements: Participants must be at least 12 years of age.
Course runs from 9:00 am to 4:00 pm. See the calendar located on your right for available course dates highlighted in RED. Once you have found the course date that works for you, select the date, and then click Confirm Availability to proceed.

Equipment Required:
PFD
Whistle
Paddleboard
Paddle
Leash
Suggested to Bring:
Water
Snacks
Hat
Sunscreen
Change of Clothes
Rental Options are available from Wilderness Supply if you don't have your own board. Just add a rental to your registration. Price of SUP rental includes transport to the course site.
This course will run with a minimum of 4 people and a maximum of 6 per instructor.
Gratuities are not included in the course fees. Our instructors make every effort to ensure your course is all you expected and more. Recognition of a job well done is always appreciated. 5-10% of your course fee is recommended.
Groups wishing to fill a complete course may contact us and receive a 10% discount for filling the course.