Paddle Canada Basic Kayak Instructor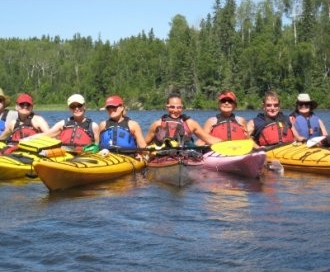 Duration: 3 Days (approx.)
Product code: PKAFFE
Learn to teach others the wonders of kayaking! The Paddle Canada Basic Kayak Instructor course is the Canadian certification standard. Learning styles, teaching techniques, and practice teaching sessions are emphasized. We introduce the basics of group management, decision-making, risk assessment, organizing and presenting effective on-water lessons, detecting and correcting common challenges with strokes and rescues, and providing meaningful feedback to students.
This course provides national certification in the instruction and administration of the Paddle Canada Basic Kayak skills course. Upon successful completion of this course, the Basic Kayak Skills instructor is certified to conduct Paddle Canada Waterfront Kayak and Basic Kayak skills courses and certify paddlers at those levels. You will receive national certification from Paddle Canada.

Instructor Bio:
We are super excited to be bringing in instructor trainer Christopher Lockyer all the way from Nova Scotia for this course. Christopher has been paddling since the early nineties in locations as far away as the UK, New Zealand, Iceland, Norway as well as countless places in North America. His passion is getting people out onto the sea and using the conditions and natural environment for them to reach their potential and personal goals. Christopher is a Paddle Canada Level 4 Instructor, Paddle Canada Level 2 Instructor Trainer and one of four BCU Level 5 Sea Kayak Coaches in North America.
Course Date:
Friday August 11 (evening only) to Sunday, August 13, 2017
The Friday evening course session runs from 5:00pm to 9:00pm. Saturday and Sunday sessions run 9:00am-5:00pm
Course Locations:
Friday evening at Wilderness Supply 623 Ferry Road Winnipeg
Saturday and Sunday at Fort Whyte Alive Adventure Site 2505 McGillivray Blvd
Prerequisites:
Paddle Canada Sea Kayak Level 1 Skills certification.
Current certification in Standard First Aid with CPR (14-16 hours) or Wilderness First Aid (16 hours) with CPR.
Participants must be at least 16 years of age.
Course Includes:
National certification and registration with Paddle Canada

Entry to FortWhyte Alive Adventure Site
Liability and Activity insurance
Equipment Required:

PFD
Whistle
Kayak
Spray skirt
Paddle
Suitable paddling footwear and clothing (no cotton - dress for immersion)
Suggested to Bring:
Lunch
Water and snacks
Hat
Waterproof sunscreen
Change of Clothes

Towel
Candidates will also need to register with Paddle Canada as an instructor candidate before the first day of the course. They will charge you either $10 or $90, depending on your current Paddle Canada membership level. We will send you additional information once you have signed up for the course.
Instructor candidates usually own their own gear. However, if you don't have your own kayak and related gear please let us know and we will ensure to bring out an extra boat for you to use.

This course will run with a minimum of 3 people and a maximum of 6 per instructor.